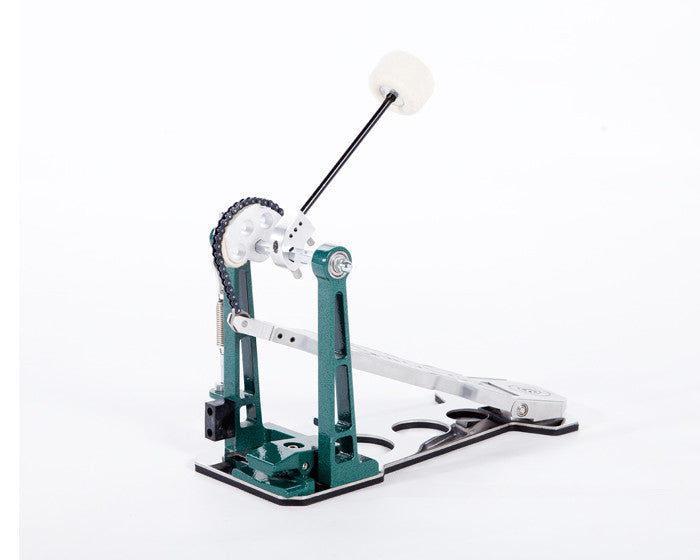 Vector G1 Pedal
Liberty Drums are the official UK distributor of the Percussion Kinetics Vector pedal. The vector employs a patented Ortho-Kinetic system which solves the issues of contorted and unnatural siting positions. Kick Pedal The G1 Vector Pedal is available in left foot and right foot bass drum pedal orientation.


Conventional pedals extend in a 90 degree angle from the bass drum, forcing the drummer (in this case a right-handed player) to be turned counter-clockwise, away from the instruments on the right, making these difficult to reach. To counteract this, many drummers play with the foot across the pedal, and thus working against its geometry, while others contort their leg into an unnatural position. Playing in this manner may, over time, lead to painful physical ailments such as "Jumper's knee" and other back, shoulder , and leg problems. The Vector was designed to, once and for all, solve all these problems.
The Vector employs a patented, ortho-kinetic system which allows the drummer to properly align the foot-board with the foot, to his/her individual liking, as well as offset the pedal in relation to the bass drum's centerline, while still maintaining a desired mallet impact point, thereby allowing the the whole kit to be set up optimally, greatly improving comfort and performance. The Vector's holistic approach, harmonises the upper and lower body to a degree which is simply not possible with conventionally designed pedals.
Spherical Bearing chain alignment. (US. Patent)
Movable cam for increased adjustment range
Jaw clutch pivot adjustable heel
Adjustable clamp positioning
Spring hander equipped with a ball bearing for low friction and smooth operation
Micro polished stainless steel base plate (strengthened plate)
"ZERO" hinge (zero play, zero wear, and zero friction)
Includes Carrying case